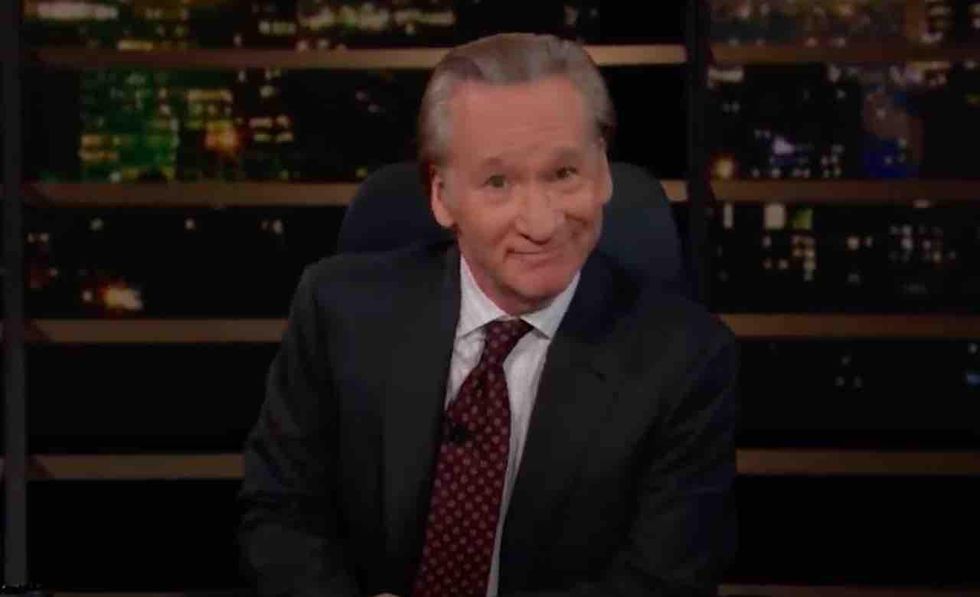 "Real Time with Bill Maher"
announced Thursday that its host — who is fully vaccinated against COVID-19 — has tested positive for the virus and that his Friday show has been canceled.
The tweet from the HBO show added that Maher "is asymptomatic and feels fine."
"'Real Time' production has taken every precaution following COVID CDC guidelines," the tweet added. "No other staff or crew members have tested positive at this time."
Maher issued
his own tweet on the situation:
Thanks to all wishing me get well – hard to do since I feel perfectly fine, but I appreciate it! Most upset about e… https://t.co/BlHyssSCf9

— Bill Maher (@billmaher)
1620953860.0
"Thanks to all wishing me get well — hard to do since I feel perfectly fine, but I appreciate it! Most upset about ending my streak going back to 1993 of never missing a Politically Incorrect or Real Time episode," he wrote. "Oh well, even Cal Ripken had to sit one out at some point."
How did leftists react?
Given that Maher is an atheist and a liberal who regularly skewers conservatives, Republicans, and those who ascribe to religious faith, one might assume that those on the left would be in his corner and wishing him the best.
But Maher of late has been criticizing leftists for their dangerous and misguided behavior and self-inflicted injuries. In fact, on his program just
last Friday, Maher went after Democrats for being "fun-suckers" and even compared them to the Republicans of the 1980s and '90s.
Content warning: Language:

New Rule: Sex, Drugs & GOP | Real Time with Bill Maher (HBO)

youtu.be

And so, with their familiar brutality on full display, more than a few leftists were quite happy to hear that Maher contracted COVID-19 — and wished him nothing but the worst.
Imani Gandy — an editor for Rewire News Group who boasts over 230,000 Twitter followers —
posted the following:
Me: Ugh, Bill Maher is trending again.

*seconds later*

Also me: lol

— ???Imani Gandy ??? (@AngryBlackLady)
1620995809.0
Brianna Wu — executive director of Rebellion PAC — seemed to wish Maher well at the beginning of her tweet. But the sentiment was short lived:
Sending Bill Maher my best, since he has Covid 19.

Sure hope his health care won't require any Muslims, women, Mi… https://t.co/aHq4HVeUSk

— Brianna Wu (@BriannaWu)
1620955029.0
Barbara Malmet — an artist and activist with nearly 250,000 followers — said in her
tweet about Maher's positive COVID-19 result: "Karma is a bitch."
I stopped watching Bill Maher during the pandemic when I thought his attitude towards public safety precautions was… https://t.co/EuWfwifmQz

— Barbara Malmet (@B52Malmet)
1620947872.0
Blue-check marked writer Alicia Lutes got cute with her
tweet:
Bill Maher contracting covid is the actual funniest thing he's done in decades.

— Alicia Lutes (@alicialutes)
1620948827.0
Others shared similar sentiments:
Anything else?
The following are a few other examples of Maher pulling no punches with his left-leaning brethren: