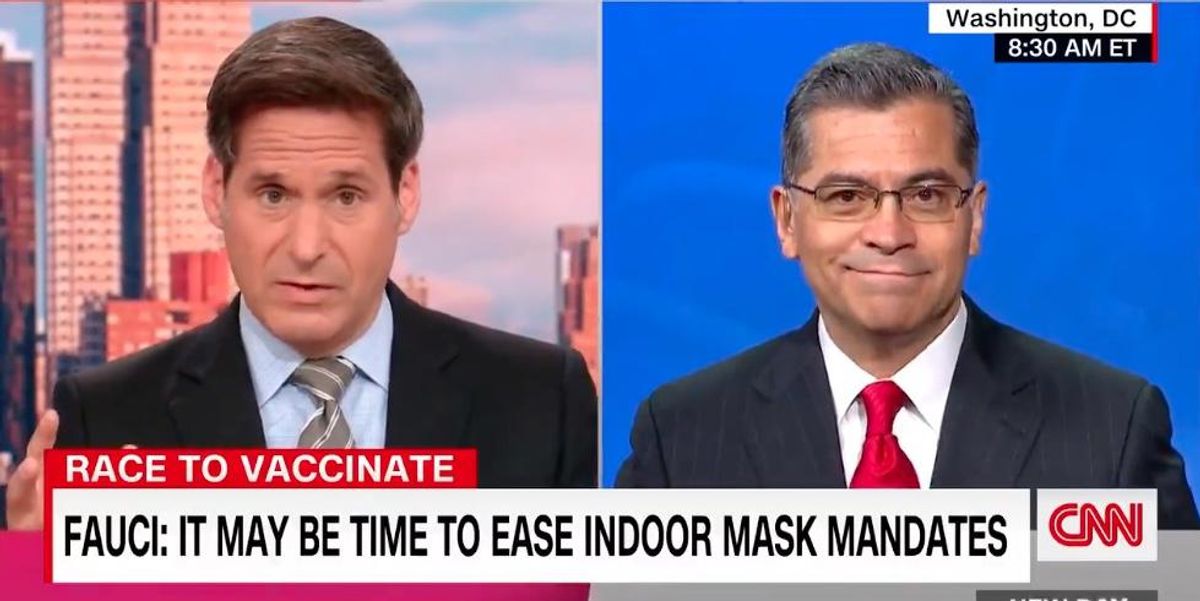 Health and Human Services Secretary Xavier Becerra went on CNN Monday to attempt to explain why fully vaccinated people should continue to mask-up.
And he struggled to make the case to the Democrat-family cable outlet.
What happened?

Becerra is the most recent member of the Biden administration to come out and contradict the latest face mask guidance from the Centers for Disease Control and Prevention.
Late last month, the new CDC guidelines said that fully vaccinated Americans do not need to wear masks outdoors, or even indoors in many cases. Fully vaccinated people, the CDC said, can gather outdoors without wearing a mask except in certain crowded settings and can also gather indoors without wearing a mask or staying six feet apart.
President Joe Biden told NBC's "Today" just a couple days after the CDC update that he would keep wearing a mask outdoors because "it's a patriotic duty." And last Friday he said to reporters who asked about his continued masking that being fully vaccinated and still wearing a mask indoors is "good policy."
The president's COVID czar, Jeff Zients, erroneously told CNN that Biden was following CDC guidance by wearing a mask, even after being fully vaccinated since January.
And senior Biden adviser Anita Dunn defended the president's continued mask-wearing by saying people should follow CDC guidelines.
On Monday, Sec. Becerra attempted to make the case to CNN's audience for fully vaccinated people to still wear face masks.
CNN host John Berman asked the secretary about Dr. Anthony Fauci's remarks Sunday that it might be time to relax indoor mask mandates, especially for people who have been vaccinated.
"Who are you protecting, if everyone's vaccinated, by wearing a mask?" Berman queried.
Becerra responded by claiming that the administration's guidance "focuses on safety" and is the "best advice possible."
What does that look like? In Becerra's mind, it means fully vaccinated people masking up because — well — they could still be carrying the virus and spread COVID-19.
What did Becerra say?
"We still want you to be as safe as possible, that's why the indoor policy should still be masking," the HHS chief said. "But clearly, if you've been vaccinated fully and you're with folks who are also vaccinated, John, the risk does diminish radically. But you could end up being a carrier and not know it and if somebody hasn't been vaccinated and doesn't wear a mask, guess what, there's still that potential of getting COVID."
Berman responded that he and his co-workers are inoculated and their safety is not being "impacted" by wearing a mask. He then indicated that perhaps it's a matter of personal responsibility and assumption of risk for each person.
"If someone else is not vaccinated, it might be THEIR safety that's being affected, so there's two issues here," Berman said. "Number one: Is that my concern anymore that someone who's chosen to be unvaccinated is making a bad choice? And question two is maybe there should be laws that allow them to be kept out of the building."
Becerra responded that he still wants to convince everyone to act in what he says is their own best interests and "be as safe as possible."
"You know, it's always difficult to get people on motorcycles to wear helmets — for their own safety. It was tough at times to get people to wear seatbelts — for their own safety," he said. "What we're simply saying is the best guidance from those who are the experts in health care is be as safe as possible by wearing a mask, even if you're vaccinated."
The CDC experts' guidance does not agree with Becerra's assertion.