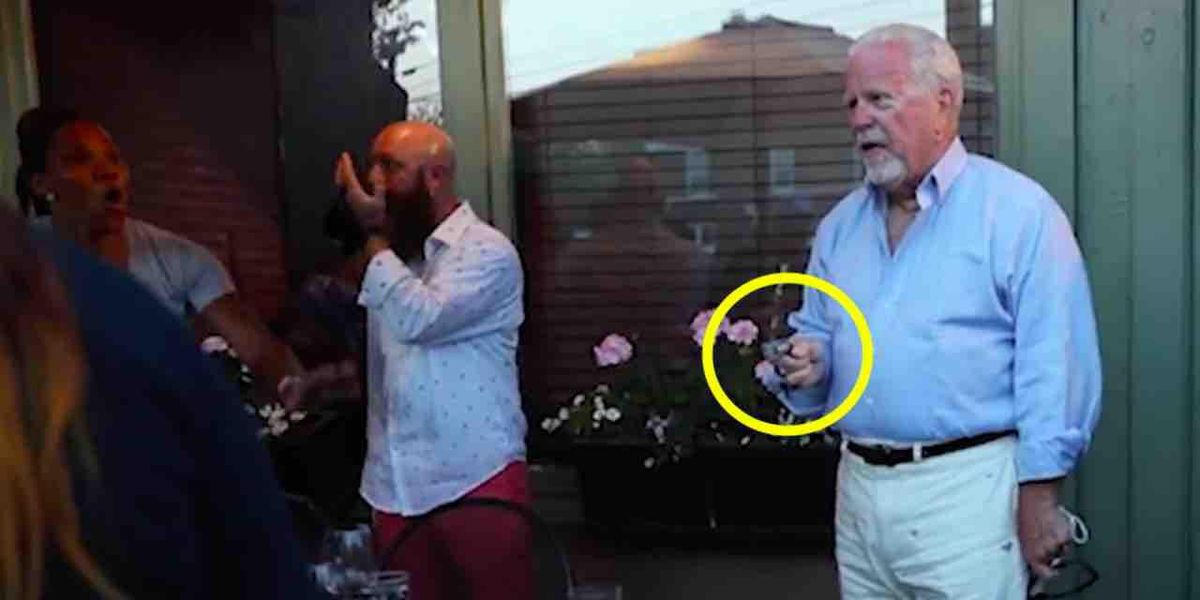 A Louisville restaurant patron put a bit of a scare into Black Lives Matter marchers Saturday night when video caught him pointing a handgun at the protesters in a wild scene amid tables on the sidewalk in front of La Chasse, the Courier-Journal reported.
What are the details?
The paper said the protesters' demonstration coincided with the 147th Kentucky Derby and was in memory of Breonna Taylor, who was fatally shot by police last year.
Just after 8:30 p.m., protesters stopped outside La Chasse on Bardstown Road, which is about five miles northeast of Churchill Downs, and the Courier-Journal reported that a man watching from the restaurant's patio pulled a gun and pointed it at protesters during a confrontation.
It's not clear what led to the confrontation, but there are numerous examples of leftist protesters caught on video harassing and terrorizing restaurant patrons at their tables in the name of their causes — such as this courageous mob in Washington, D.C., last August:
1) In a scene that played out several times Monday, a Black Lives Matter protest that began in Columbia Heights con… https://t.co/kAceaq1yEW

— Fredrick Kunkle WaPo (@KunkleFredrick)
1598384374.0
But apparently the armed restaurant patron in Louisville wasn't about to let anything like that happen to him.
Video of the confrontation begins with an image of the white-haired man in a blue dress shirt and light-colored pants standing near one of the outdoor tables and pointing a small handgun at the protesters, who are hollering and making gestures — but not daring to get anywhere near him.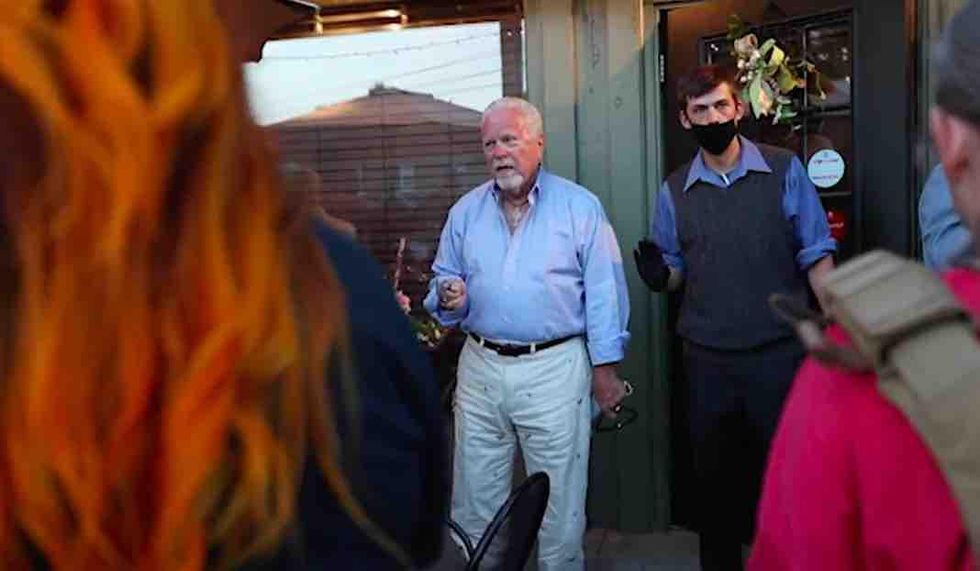 Image source: Courier-Journal video screenshot
In the clip, one of the protesters can be heard hollering at the man, "You're not the only one with a gun!"
Indeed, a pair of men armed with rifles and handguns who appeared to be acting as security for the protesters were seen facing down the white-haired patron and arguing with him.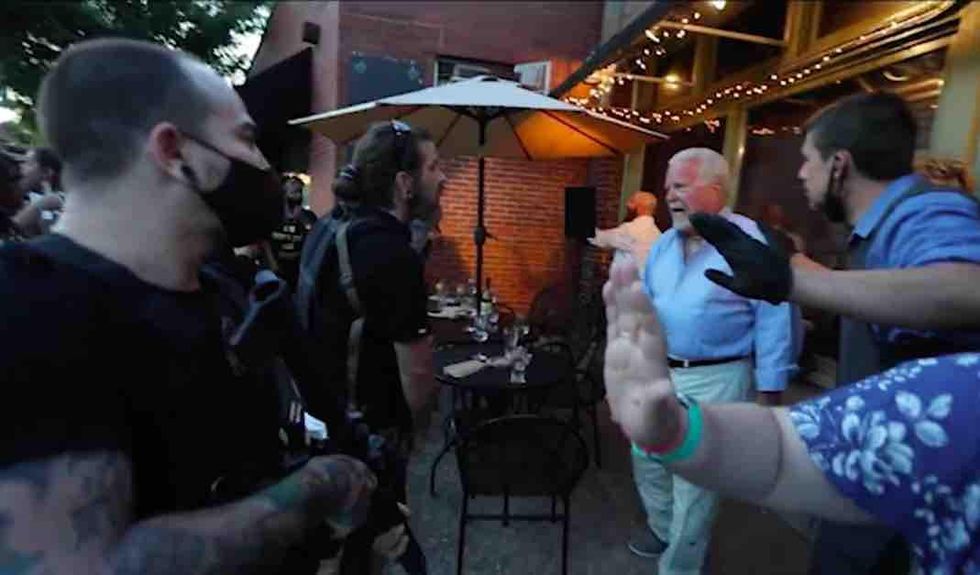 Image source: Courier-Journal video screenshot
A woman who appeared to be one of the protesters and man who appeared to be restaurant employee did their best to keep things calm.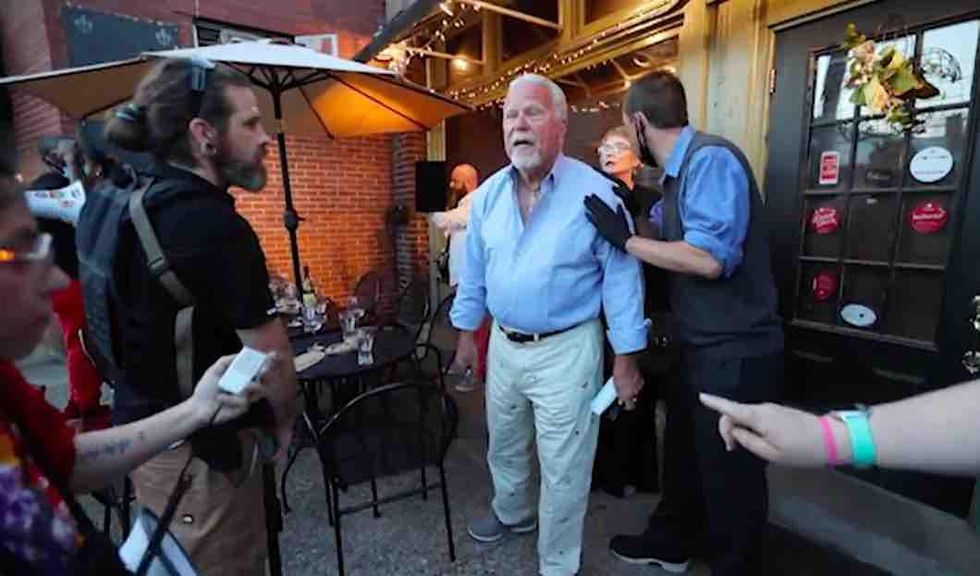 Image source: Courier-Journal video screenshot
The paper said other protesters told the group to keep moving, and a few minutes later several Louisville police cruisers pulled up in front of the restaurant. The Courier-Journal didn't indicate if any arrests were made.
The video ends with the white-haired man and another man being led inside the restaurant as the more heavily armed men watch them leave the scene:
Anything else?
A number of Twitter commenters weighed in on a separate video of the incident posted by a Courier-Journal reporter.
Confrontation between patrons at La Chasse and protesters. https://t.co/iUFKA9zWvY

— Hayes Gardner (@HayesGardner)
1619916034.0
While no context for the confrontation was noted in the tweet, it was clear where folks who observed the clip stand on the issue:
"THESE BLM turds NEED TO STAY THE F*** OUT OF PEOPLE LIVES," one commenter wrote. "People that did nothing to harass get harassed in return. It's going to backfire sooner than you think."
"Bunch of stupid jackasses have pushed good decent people to the brink," another user said. "Best look out!!"
"Good for him," another commenter noted. "Stop harassing and threatening people eating diner."