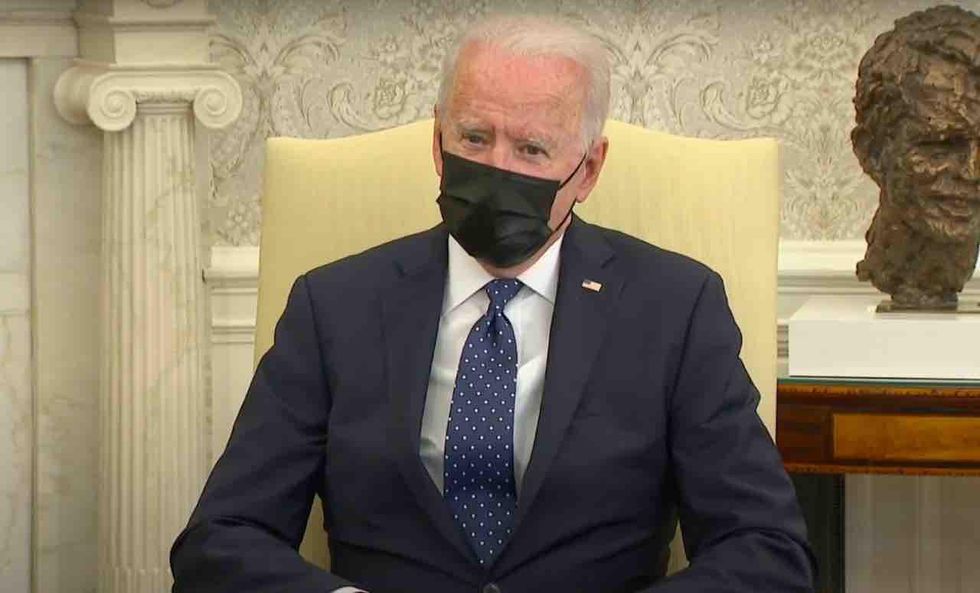 President Joe Biden on Tuesday said he's "praying" for the "right verdict" in the trial of former Minneapolis police Officer Derek Chauvin, who's been charged with murdering George Floyd last May.
"I'm praying that verdict is the right verdict," Biden said to reporters at the White House, "which is, I think it's overwhelming in my view." He quickly added that he "wouldn't say that" had the jury not been sequestered, which they have been since Monday.

Biden Says He's Praying Chauvin Verdict Is 'Right Verdict'

youtu.be

'RIP due process'
Biden's comments drew everything from shock to steep criticism.
Jenna Ellis — former special counsel for former President Donald Trump, tweeted in response to Biden's statements, "RIP due process. The judge needs to declare a mistrial."
CNN anchor Jim Sciutto called Biden's words a "remarkable statement from a sitting president on a criminal trial currently underway":
Josh Hammer, Newsweek's opinion editor, said Biden's words were "wildly inappropriate":
Glenn Kessler, editor and chief writer of the Washington Post's Fact Checker, had the following to say:
"Uh, Biden said he was waiting till the jury was sequestered to comment," Kessler tweeted. "How about waiting until after the verdict?"
Former White House Press Secretary Kayleigh McEnany said on Fox News that Biden should have held back his comments.
"I'm glad that he at least waited until the jury was sequestered, but I think that the country is such a tinderbox right now, especially Minneapolis, there's so much hurt, so much pain, and I think it's the role of the president of the United States to stay back, to not inflame the tensions."

Kayleigh McEnany: 'It's the role of the president of the United States to stay back, to not inflame'

youtu.be

Floyd's last moments, caught on video, showed Chauvin appearing to kneel on Floyd's neck. Violent protests and riots erupted across the country for most of last summer as a result, and the Minneapolis area is more than tense at the moment due to the impeding Chauvin verdict and the recent police-involved fatal shooting of Daunte Wright in nearby Brooklyn Center.
What did Jen Psaki have to say?
White House Press Secretary Jen Psaki wouldn't elaborate on what Biden considers "the right verdict" or clarify what he considers "overwhelming," USA Today reported.
Sciutto added that Psaki said Biden is "not looking to influence" the case, given he commented while the jury was sequestered, and that she doesn't believe he was "weighing in on the verdict" but rather conveying compassion toward the family.
Anything else?
Far-left U.S. Rep. Maxine Waters (D-Calif.) made headlines after telling Minnesota protesters Saturday to "get more confrontational" if the verdict in the Chauvin trial doesn't go their way. In the aftermath, House Minority Leader Kevin McCarthy (R-Calif.) promised to bring action against Waters if Speaker of the House Nancy Pelosi (D-Calif.) doesn't act — and it appears that Pelosi will not.
The judge in the Chauvin trial blasted Waters for her "abhorrent" comments, and while Judge Peter Cahill said that they could lead to the overturn of the trial if the defense chooses to appeal the verdict, he didn't grant a mistrial Monday.
In addition, some Democrats reportedly found Waters' comments "revolting," and there is "disgust" among the House Democratic caucus which "metastasized" after Cahill publicly rebuked Waters — and some Democrats reportedly would support censuring Waters.
And Republican U.S. Rep. Steve Scalise of Louisiana took Waters to task for her "incitement," saying he "was shot because of this kind of dangerous rhetoric."