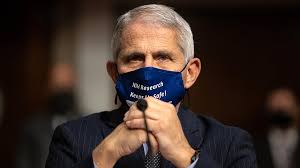 As the elitists continue to roll out their New World Order agenda, Dr. Anothny Fauci keeps talking about how much "pain" the public is going to go through this winter due to this scamdemic. Fauci continues to talk about bad and dark this winter will get, so expect these elitists to pull off something sinister.
Alert: The New World Order Is Coming
"If things do not change, if they continue on the course we're on, there's gonna be a whole lot of pain in this country with regard to additional cases and hospitalizations, and deaths," Fauci said in an interview Wednesday evening on "The News with Shepard Smith."
In an interview on Wednesday with CNBC, Fauci said that the United States is "going in the wrong direction" as coronavirus cases allegedly rise in 47 states and infected patients overwhelm hospitals across the country. It certainly feels like these people are going to make life difficult soon.
"They never had the kind of hospital and intensive care facility and flexibility that some of the larger hospitals in larger cities have," said Fauci, director of the National Institute of Allergy and Infectious Diseases. "They're concerned that if the trajectory continues, they may be in a position where they are going to be strapped for things like intensive care beds," said Fauci.
The COVID-19 "Dark Winter" PsyOp: Question Everything…
Joe Biden Warns: A "Dark Winter"; Is Ahead
Those Who Planned The Enslavement of Mankind Warn Of "A Dark Winter" For Us
The people who think they have power over everyone continue to talk of a "dark winter." They will probably attempt to pull off another lockdown. It is now up to the public what we will accept. We also implore all military and law enforcement to take a long hard look at what you are going to be asked to do:
David Icke To LEOs & Military: "Look Your Children In The Eye" & Tell Them YOU Enforced Tyranny
The post More Fauci Warnings: Expect "A Whole Lot Of Pain" This Winter first appeared on SHTF Plan – When It Hits The Fan, Don't Say We Didn't Warn You.