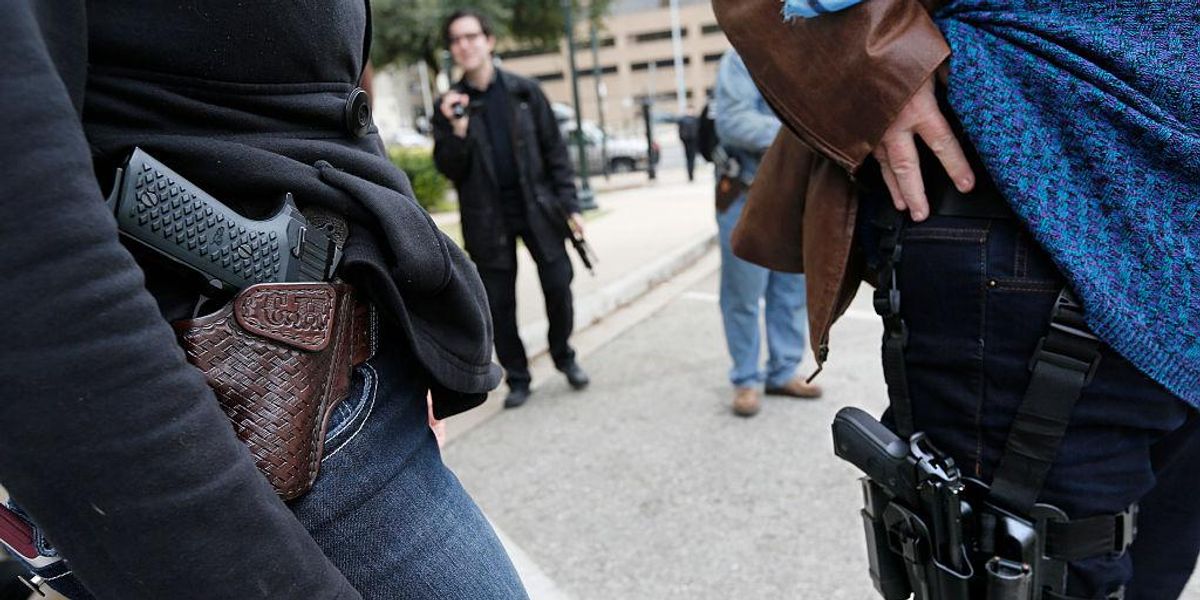 The Republican-controlled South Carolina Senate on Thursday passed a watered-down open carry bill that would allow trained gun owners with a concealed weapon permit to carry their handguns in public view.
Conservative Republicans in the state Senate attempted to expand the legislation into a full-on "constitutional carry" bill to let all legal gun owners carry firearms publicly without a permit, but nine GOP senators voted to reject the amendment.
The bill that passed Thursday requires people who have concealed weapons permits to undergo training and background checks to be allowed to carry their handguns openly. The training must include how to properly holster a firearm and de-escalation techniques for hostile situations. Those applying for a concealed weapons permit must also fire a minimum of 25 rounds during training.
Following several days of heated debate, during which Democrats decried a bleak future where Wild West shootouts occur in South Carolina streets, the bill passed 28-16 with just one Republican opposed.
"It's just a recipe for disaster that can easily be avoided," state Sen. Kevin Johnson (D) said. "I'm just asking that we think very carefully about what we're doing to our beautiful state by turning into a scene from the wild, wild west."
Democrats observed that doctors and law enforcement officers testified in opposition to the bill during subcommittee hearings.
"The medical community is against this bill, law enforcement is against the bill, the business community is against the bill and, overwhelmingly, the people of South Carolina are against the bill," state Sen. Marlon Kimpson (D) said. "Who do we represent?"
Republicans countered that it is legal in South Carolina to carry a long gun openly in public and few state residents choose to do so.
"I don't think open carry with a pistol will be an issue, either," state Sen. Tom Corbin (R) said.
South Carolina is currently one of only five states without some form of open carry law, along with California, Florida, Illinois, and New York.
Gov. Henry McMaster (R) has pledged to sign any bill the legislature passes that protects Second Amendment rights.
State Sen. Shane Martin (R) led the unsuccessful effort to amend the bill to let all legal gun owners carry firearms openly, no permit required.
"I want everyone to be able to exercise his or her constitutional rights, but I don't want our government to have to tell us how to do that," Martin said.
After his amendment failed, Martin told the State he was "disappointed" but added that he has "no regrets" over the way things turned out.
"I won't give up advocating for it. I was so close," he said. "The Senate's not ready for it yet."
Senate Majority Leader Shane Massey (R), one of the Republicans who voted to reject the constitutional carry amendment, said having background check and training requirements is important for safety and in line with how the Supreme Court has interpreted the Second Amendment.
"It's important to be able to demonstrate at least a minimal proficiency in handling weapons," he said.