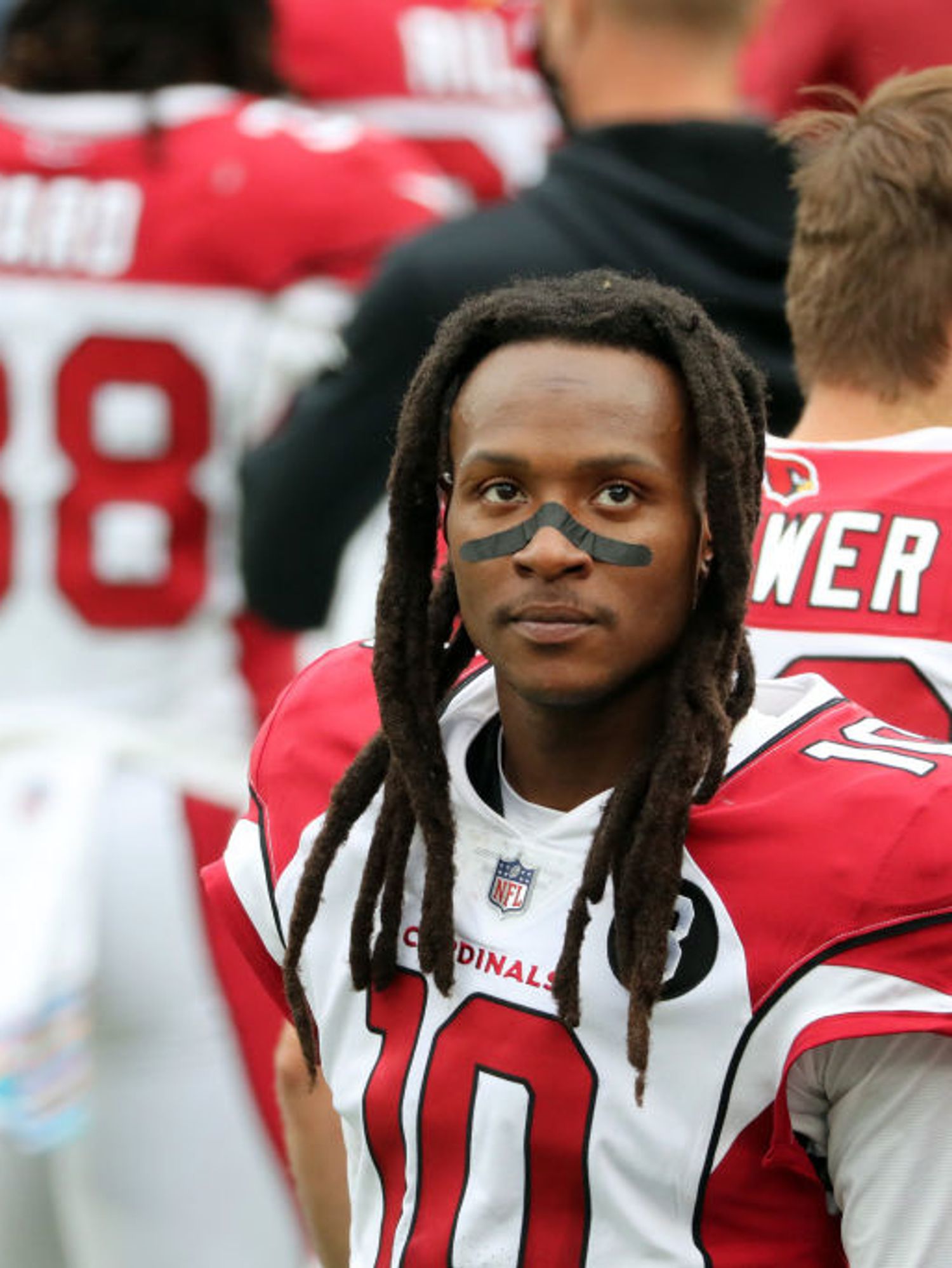 Photos appear to show an NFL player giving Trump supporters the middle finger as he drove past in a sports car on Arizona's I-10 highway Sunday.
Multiple reports indicate that Arizona Cardinals wide receiver DeAndre Hopkins, 28, appeared to flip off a miles-long caravan of Trump supporters as he drove past in his Ferrari on the way to State Farm Stadium for Sunday night's game against the Seattle Seahawks.
According to KSAZ-TV, a caravan of people supporting President Donald Trump for re-election rallied that day on several Arizona highways, including I-17, Loop 101, 202, and I-10.
Hopkins was reportedly seen driving past the caravan, making obscene gestures along the way, around 1:30 p.m. According to the Arizona Republic, Hopkins was wearing a distinctive shirt that he was seen wearing when he arrived at the stadium later that afternoon.
Members of the pro-Trump caravan accused Hopkins of driving recklessly, speeding and swerving in and out of the caravan line.
"It's scary when they are coming up fast and swerving into you," April Garcia, one of the drivers in the caravan, said. She also noted other "intolerant" people threw water and other objects at the Trump supporters.
Others on social media called out Hopkins for his behavior.
So far neither the Cardinals nor the Arizona Department of Public Safety have released a statement about the incident, KSAZ reported.
The Cardinals beat the formerly undefeated Seahawks Sunday night 37-34. Hopkins, one of the NFL's best wide receivers, ended the game with 10 receptions for 103 yards, scoring one touchdown.
Hopkins is a vocal Black Lives Matter supporter and critic of President Trump.
In June, Hopkins starred in a video along with other NFL stars including Kansas City Chiefs quarterback Patrick Mahomes, Cleveland Browns receivers Odell Beckham Jr. and Jarvis Landry, Dallas Cowboys running back Ezekiel Elliott, and others condemning police brutality after the death of George Floyd.
"How many times do we need to ask you to listen to your players? What will it take? For one of us to be murdered by police brutality?" the players asked the league.
"I am George Floyd," Hopkins and the others said.
Back in 2018, Hopkins, then playing for the Houston Texans, said Trump is too "closed-minded" to understand the NFL national anthem protests.
"I think Trump is more closed-minded and he thinks the reason that we're kneeling is because of the flag," Hopkins told TMZ Sports. "When that's like not at all the reason we're kneeling. I kneeled last year and one of my best friends is a Purple Heart veteran and my uncle is a Purple Heart veteran and they understand that it's not about the flag."